Welcome to Athletics at KDES
The KDES Athletics Department provides our Grade 6-8 students with numerous opportunities to compete and develop a strong sense of connection, integrity, self-esteem, sportsmanship, responsibility, and loyalty. As our student athletes strive to excel on and off the field, valuable lessons learned will contribute to a lifelong love of sports and an overall mindfulness of health and wellness.
Students may choose from:
Fall – Flag Football (Co-ed) and Volleyball
Winter – Boys & Girls basketball
Spring – Track & Field 
Our teams compete in matches against local public and private schools, as well as other schools for the deaf. For game schedules, team information, and more, go to our KDES Athletics sports page!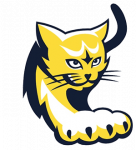 KDES Wildcats Official Online Store
Show your spirit, get your KDES apparel!